SIMPLE to install & STRONG against the wind
Installs in less than 8 seconds – Strength tested against 35+ mph winds
---
No digging, screwing or hammering

Water does the work. Simply pour water from the bucket into the funnel, the Sand Badger sinks into the sand and comes to rest. The wet sand surrounds Sand Badger and dries, creating a firm hold.

-Will work with any typical beach umbrella-

-No metal parts -

-100% Made in the USA -

-Lifetime warranty-

The Sand Badger works equally well whether in firm or soft sand.
Watch the installation video.
Inspired by the need to help people. We provide a simple, safer way for anyone to setup an umbrella and enjoy beach life.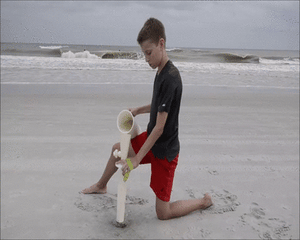 WICKED SIMPLE
THIS IS CRAZY! - Setup in Seconds -simply pour water down the funnel and the water does the work. There is no device with an easier setup than Sand Badger!
A child with a broken finger can secure the Sand Badger in the sand in 8 seconds!
WICKED STRONG
TESTED against winds over 35 mph, ensuring the safety of your family and everyone around you.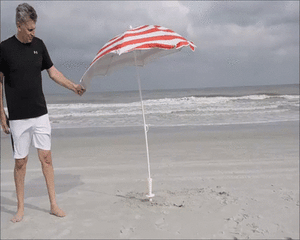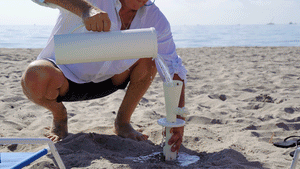 CLEAN, SIMPLE STRONG
NO DIGGING.......NO SHOVELS......NO SCREWS
Get in Touch
Feel free to ask us any questions you have about the Sandbadger.
---
OUR CAUSE
We love Sea Turtles! You can help save these majestic sea creatures with us. For every Sand Badger purchased, a donation will be made to a sea turtle non-profit rescue center. Help us be a part of this important cause!